Product Gallery is displayed on single product page top-right by default. Product gallery options are accessed trough Dashboard > Product Settings > Catalog Design > Single Product.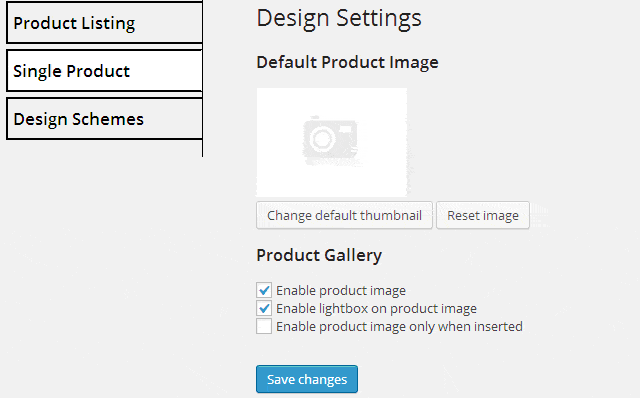 Default Product Image
The default product image is used on single product page and on product listing when no image is assigned to the product. Default product image can be disabled for single product page in product gallery settings.
Two buttons allow to add custom default image or reset it to the one provided with the plugin.
Product Gallery Settings
There are three options to choose:
Enable Product Image – this is checked by default, when unchecked the product image will not show up on product page but will be used for product listing. When product image is disabled the price and shipping goes to the place of the image.
Enable lightbox – this is checked by default, when unchecked the lightbox will be disabled, there image will not be clickable.
Enable only when inserted – this is unchecked by default, when checked the default image will not be shown when there is no image assigned. There will be no image at all when not image is assigned to the product, however the default image will be used for product listing.
Assigning image to the product
Every product add/edit page has image box to set or change product image. To set product image click on "Set product image" link and choose the right image when product gallery appears.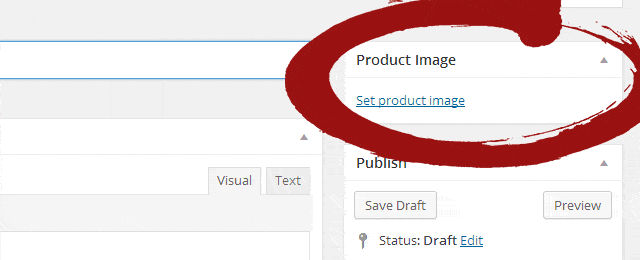 Removing product image
After the image is assigned it will appear on product edit/add screen. To change product image click on "Remove product image" and when it is removed it will be possible to set it again.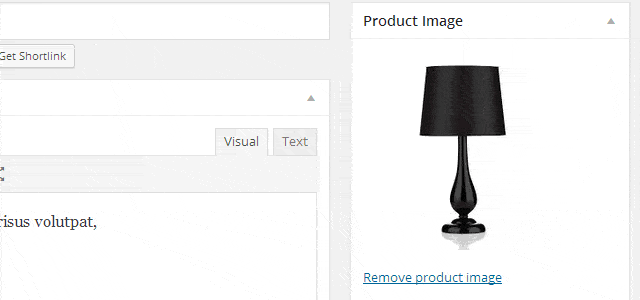 How to add more product images?
Product description allows to set as many images as needed for the product. To do that simply click "add media" on product description field.
Product Gallery can be extended with
Product Gallery Advanced
extension. It allows to insert multiple lightboxed images, product slider and multiple advanced styling and positioning settings. 
Click to see more