The product lightbox settings are located at Product Settings > Catalog Design > Product Page. The image on the right represents selected lightbox style.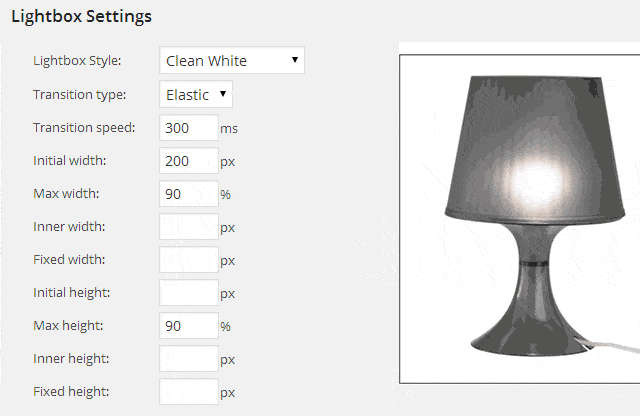 Product Lightbox Styles
The lightbox style can be selected from a drop-down menu. When the selection is made the preview on right will show corresponding design.
There are 5 lightbox styles to choose from:
Default
Dark Background
Clean White
Clean Dark
Modern
Transition types
The product lightbox transition types can be chosen from the drop-down. Three values are available:
Transition Speed
This setting defines how fast will the transition be. This value is set in miliseconds. The default is 300.
Product Lightbox Size
4 fields for width and 4 for height are available:
Initial width/height sets the size before the transition occurs;
Max width/height sets the maximum size in percentage to the user screen size;
Inner width/height sets the gap between the image and the lightbox style border. By default there is no gap;
Fixed width/height sets fixed size for the lightbox (normally the lightbox size will change according to the image size);