Full featured shopping cart with advanced customization options. Transform your product catalog to a Web Store!
High usability measures, product variations, smooth experience and more!
The license gives access to automatic updates and premium support for one year.
You will get a 30% discount for another year. The renewal is 100% optional but recommended. The plugin will work the same after the license is expired.
Risk-free: 30-day money back guarantee included. License FAQ

Product Variations
You can add unlimited product variations to each product. Each variation can have a price effect. Can modify the normal price by a percentage or fixed value.
The user can select the variations with the drop-downs located on product page and in the checkout.
Modern Checkout
The user can make changes in the checkout without clicking any "save" button. Everything is saving automatically without a page refresh. The following can be modified in the checkout:
The quantity for each product
Product variations
Products can be deleted
When any change is made the order summary is automaticallt updated without any page refresh or button click.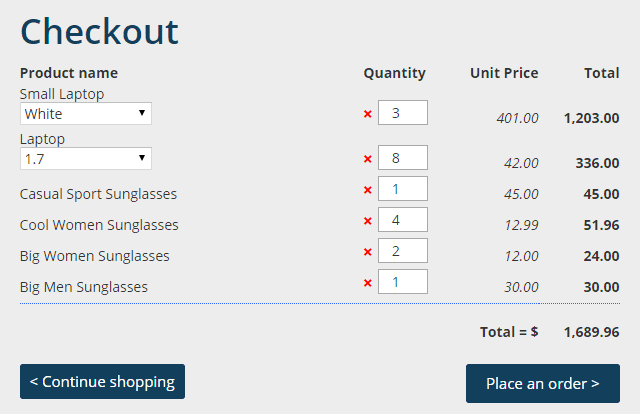 Add to Cart button with advanced settings
The Add to Cart button has multiple customization settings. You can:
enable or disable quantity field,
redirect to cart after click,
enable add to cart on price click
replace button with a simple text URL
add a description that will appear near the button
You can fully customize the button with your theme CSS. We didn't add to much custom styling there to nicely match to your theme style.
Customizable Checkout form
The checkout form is 100% customizable with a drag and drop editor. You can add unlimited amout of fields, text and labels there.
You can also enable captcha verification.
The form fields can be saved with a cookie or user account so the returning customers don't need to fill the form again and again.
Shopping Cart pages
You can select your shopping cart pages for:
checkout summary
checkout form
thank you page
The pages can be fully customized. You can add any content there as all the plugin output can be set with a shortcode.
Fully Customizable Email Notifications
You can set the email addresses to send and receive shopping cart notifications.
Once the order is set you and your customer will receive email notification with order summary.
The email templates are fully customizable on Shopping Cart admin page. You can also use HTML there.
Modify product names
For every product you can set separate product name for:
product listing
confirmation email
shopping cart
As this is a feature not needed for every shopping cart it needs to be enabled from Shopping Cart settings.
Shopping Cart widget
You can use the Shopping Cart widget in your sidebar to show the shopping cart contents and products count which updates instantly when the product is added or deleted. The widget contains the button to proceed to checkout.
| | |
| --- | --- |
| See other extensions related with | |