If you have products that are not for sale directly through the website you can disable the payment options for them.
In order to enable this functionality please go to Catalog Settings > Shopping Cart and find the Payment Options section. On the bottom of this section you will see the following checkbox:

As soon as you check this checkbox the functionality will be enabled and you will see the option to disable payment gateway on each product edit/add screen: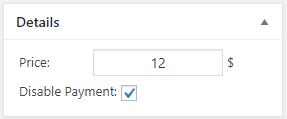 When you check the Disable Payment checkbox on the product edit/add screen the payment gateways will be disabled for this product.
The payment gateways will be disabled when at least one product with Disable Payment option checked is added to cart.
When the customer submits the order with the payment gateways disabled you will get the notification and the customer will be redirected to the thank you page.