The product importer is located at Product Settings > Product Import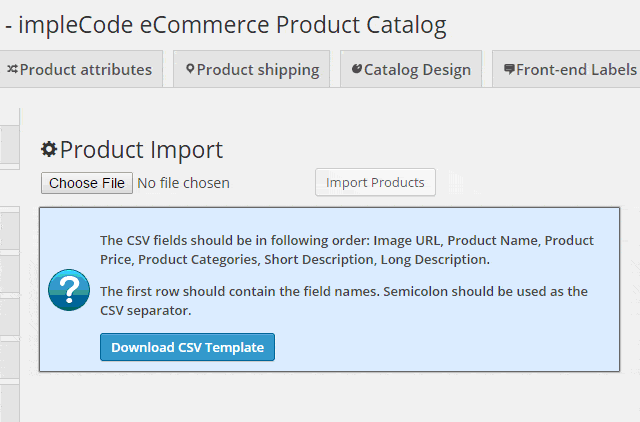 You can import products from CSV by clicking "choose file" button, selecting the CSV file on your hard drive and clicking "Import Products" button. The import process will start immediately.
The time to complete depends on how many products the CSV cointains. While uploading spreadsheet do not click any url or refresh the page if you don't want to cancel the import process.
The message will appear after the product import process is done. It will contain the number of products added.
Product Image Import
Product images can be attached to products if they are already in media library. You should use a full URL to the image already uploaded to your website.
Import CSV template
You can download the template file by clicking the button. The file will contain only the proper CSV headings.
Please note that the semicolon should be used as CSV separator for bulk product upload.
Simple CSV can be extended with
Product CSV
which is not limited by server timeout, can import and export all product fields, export rules can be applied, custom separator can be set, external images can be imported and many other useful features.