The export feature is located in Product Settings > Product CSV screen.
This advanced export feature has no limitation. You can export all the products with all the data fields into one CSV file.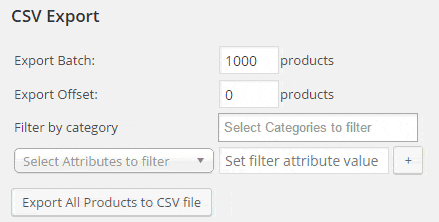 Press the Export All Products to CSV file button to start exporting all products with all fields.
Download Product CSV
After the CSV file is generated the download URL will appear.
If you see also the export more buttons it means that not all the products are included in the file yet. If you want to include all products in one file please click the export more button. This way all the products will be included in one CSV file.

Click the Download CSV link to start downloading the CSV file.