The PayPal settings are located at the bottom of Product Settings main tab.
To enable the PayPal payment option for the order form you will need to enter the Your PayPal email address and check the Enable PayPal for products checkbox.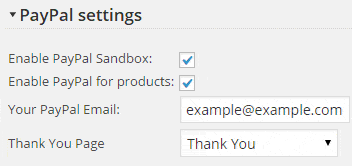 Do not forget to uncheck the Enable PayPal Sanbox before going live!
Now the PayPal payment option will appear in the order form and the user will be able to check it to pay for the order.