Accept PayPal payments. Add PayPal button to your product pages or new payment option for the Order Form or Shopping Cart and allow the users to pay immediately for the order.
This is a standalone extension. You don't need any other extensions to enable a PayPal button on every product page with a price set.
Automatic updates and premium support for one year included.
Enjoy a generous 30% renewal discount for updates and premium support.
Risk-free: 30-day money back guarantee included. License FAQ
Information & Requirenments
PayPal Buy Now Button on every product page with a price:
You can enable PayPal buy now button which redirects directly to the PayPal payment page. It supports the shipping feature.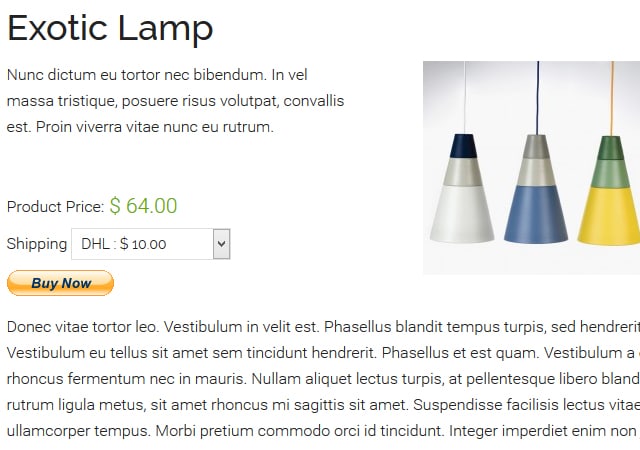 PayPal Add to Cart Button on every product page with a price:
You can choose to use the PayPal Shopping Cart implementation. After the button is hit the cart appears in top layer and the user can adjust the quantity, delete products from cart, proceed to payment or continue shopping.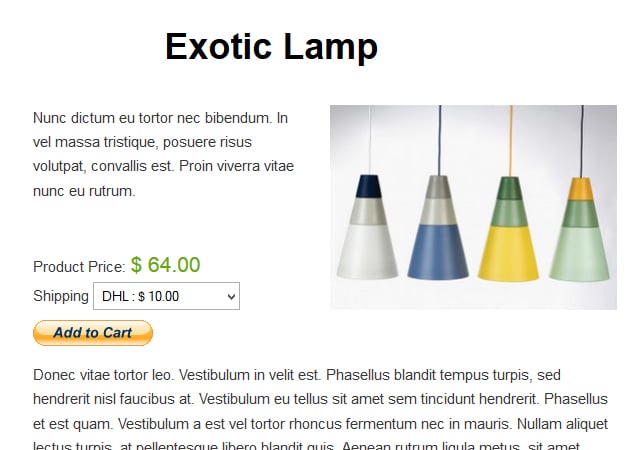 PayPal payment option in the checkout form:
This PayPal Gateway extension is fully compatible with Order Form or Shopping Cart extensions. The PayPal payment method will be added to the checkout form.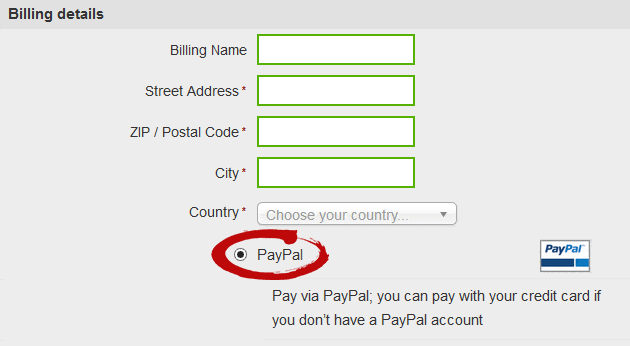 This PayPal payment gateway will add a PayPal button to every product page with a price set. Also if you have the Order Form or Shopping Cart extensions the new payment method will be added to the form.
WordPress PayPal Gateway features
Set PayPal Email


The only field you need to configure to start getting payments is PayPal email address.

Test in PayPal Sandbox


You can enable PayPal sandbox and test the order and payment process. When sandbox is enabled the payments are not taken. For details see PayPal Sandbox.

Send Order Details to PayPal


Be reliable, show your customers what they are paying for with exact order summary sent to PayPal. The customer can see product name, quantity and price before they confirm the payment.

Send Customer Data to PayPal


Provide fast and unique experience by pre-filling what was already provided on the website. Users don't like long payment procedure. impleCode PayPal Gateway will send customer input to PayPal for you (if you are using the order form).
Choose PayPal button type, email and thank you page
You can configure the extension by adjusting a couple of simple settings.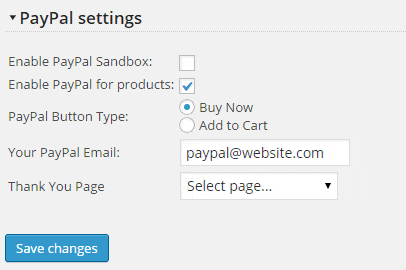 Robust PayPal Shopping Cart integration
When new product is added the shopping cart appears as top layer. The shopping cart has all product listed with a possibility to modify the quantity, delete product, checkout with PayPal or continue shopping.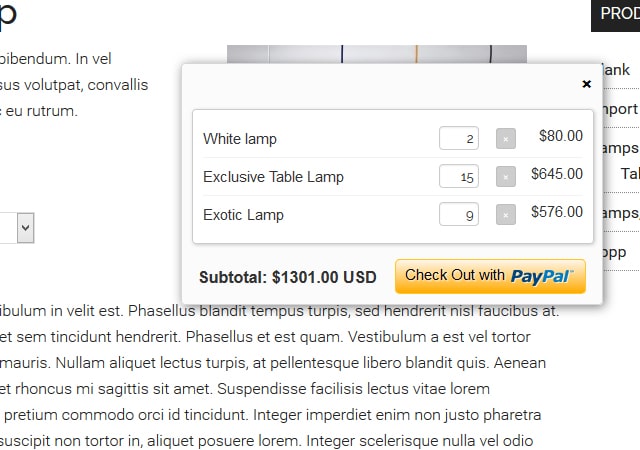 The totals are updated instantly when the user changes the quantity.
Full Integration with Order Form extension
PayPal Gateway is fully integrated with impleCode Order Form. When both plugins are activated the Order Form Builder gets another setting to assign PayPal fields. When you assign PayPal fields in drag & drop form builder the correct data will be sent to PayPal.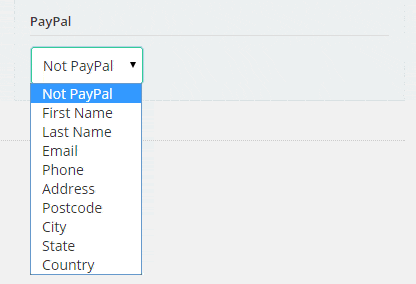 Another PayPal Gateway plugin features
Order processing ready. First step of payment verification is done by the Gateway. User is sent to the thank you page after the payment is done.
PayPal Gateway let you process digital product order after the payment is verified.
Smart Multiple Catalogs integration let you enable PayPal Gateway only for certain product catalogs
EU orders integration let you define VAT for the order. It will be specified in the order summary on PayPal.
100% compatible with Product Discounts extension.
100% compatible with eCommerce Product Catalog shipping.
FAQ
Do I need SSL certificate or PCI compliance in order to use this plugin?
No. SSL certificate and PCI compliance is not required to get payments with this plugin. Payment processing is done by PayPal secure servers and the plugin is handling all the security for the checkout process.
Do I need Order Form or Shopping Cart plugins to get payments?
No. You can get payments through PayPal button automatically generated on the product page.
---
How this WordPress plugin works?
Set your PayPal email and enable PayPal Gateway for products
The PayPal button is added on every product page with price or on the checkout page with Shopping Cart or Order Form active
The user clicks PayPal button on the product page
User confirms the payment on PayPal page
After the payment is done the user is redirected to thank you page
That's it. Enjoy sales & beauty!
You are always welcome to ask for free support on the WordPress forum, however if you prefer fast, confidential premium support we are available 24h a day to solve your problems and answer questions.
What do you get with premium support?
One year of high quality and speedy support from our team of WordPress developers.
Guaranteed reply in less than 24 hours! Normally in less than 1 hour.
Available 24h of every working day!
Fast, thorough and professional replies for all plugin issues.
Ideal for business websites and websites that generate income as our swift replies ensure that all issues are addressed and corrected as quickly as possible.
For additional information please see our Support Policy.
What are the steps?
After we receive payment confirmation you will receive an invitation email to the premium support list and Premium extension with a license key;
Use your license key to install the extensions in the catalog extensions menu
In the invitation email you will get premium support email address;
The Premium extension will let you to send support tickets directly from product settings support tab;
With your license key you will be able to send support tickets to get fast, thorough and professional replies for all plugin issues.
Installation
This extension can be installed in the catalog extensions menu. Just use your license key and hit install!
This extension is a WordPress plugin. You will get access to the customer panel where you can download it. To manually install the plugin please upload it in your WordPress dashboard under the Plugins menu.
Automatic Updates & Premium Support
The license key will give you automatic updates and premium support for one year!