Sometimes we need to move a products from one product catalog into another. It's as easy as selecting a drop-down.
Every product edit/add page has a drop-down that indicates in which catalog the product currently exists. The Product Catalog drop-down is located in the Publish box.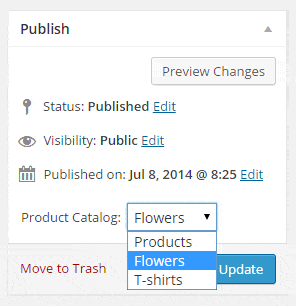 Choose a product catalog with the drop-down to move the product into selected catalog. When you update the product it will be transferred into the selected catalog.
If you select the catalog in which the product is currently located nothing will happen.