Accept Credit Card payments with Paytrail (formerly Suomen Verkkomaksut) secure card processing.
Paytrail contains online banking buttons to all Finnish banks and card payment
Automatic updates and premium support for one year included.
Enjoy a generous 30% renewal discount for updates and premium support.
Risk-free: 30-day money back guarantee included. License FAQ
A Paytrail contract is required, sign up now.
Catalog currency must be set to Euro.
This payment gateway can be used in 3 different configurations:
Standalone extension which adds a CSS customizable buy now button on every product page with price set which points directly to secure Paytrail payment processing.
With Order Form extension the gateway will add a card payment option in checkout.
With Shopping Cart extension the gateway will add a card payment option in checkout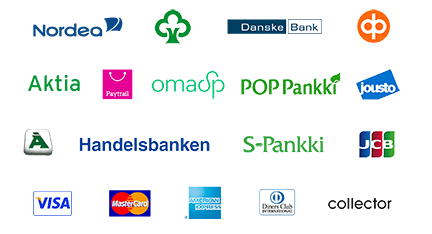 Who is Paytrail?
Established in June 2007 as 'Suomen Verkkomaksut'.
Their turnover has seen amazing yearly growth, enabling them to serve you better and better.
They have over 50 experts, each one is a real gem.
Their headquarters are in Jyväskylä, Finland.
They are a licensed payment institution.
They help 10 000+ webshops and online services in several countries to provide a pleasant shopping experience to their customers.
More than two billion euros have passed through their system.
They are part of Nets.
They make online shopping easier, no matter where your customer is!
You are always welcome to ask for free support on the WordPress forum, however if you prefer fast, confidential premium support we are available 24h a day to solve your problems and answer questions.
What do you get with premium support?
One year of high quality and speedy support from our team of WordPress developers.
Guaranteed reply in less than 24 hours! Normally in less than 1 hour.
Available 24h of every working day!
Fast, thorough and professional replies for all plugin issues.
Ideal for business websites and websites that generate income as our swift replies ensure that all issues are addressed and corrected as quickly as possible.
For additional information please see our Support Policy.
What are the steps?
After we receive payment confirmation you will receive an invitation email to the premium support list and Premium extension with a license key;
Use your license key to install the extensions in the catalog extensions menu
In the invitation email you will get premium support email address;
The Premium extension will let you to send support tickets directly from product settings support tab;
With your license key you will be able to send support tickets to get fast, thorough and professional replies for all plugin issues.
Installation
This extension can be installed in the catalog extensions menu. Just use your license key and hit install!
This extension is a WordPress plugin. You will get access to the customer panel where you can download it. To manually install the plugin please upload it in your WordPress dashboard under the Plugins menu.
Automatic Updates & Premium Support
The license key will give you automatic updates and premium support for one year!