Product Catalog Simple for WordPress will let you create a simple product catalog on your site. In case you need to extend the product catalog functionality later you can do it with free and premium extensions.
Product Catalog Flexibility
It's a simple tool for beginners with wide customization options for power users. You can customize any product catalog template by simply creating a file in your theme directory.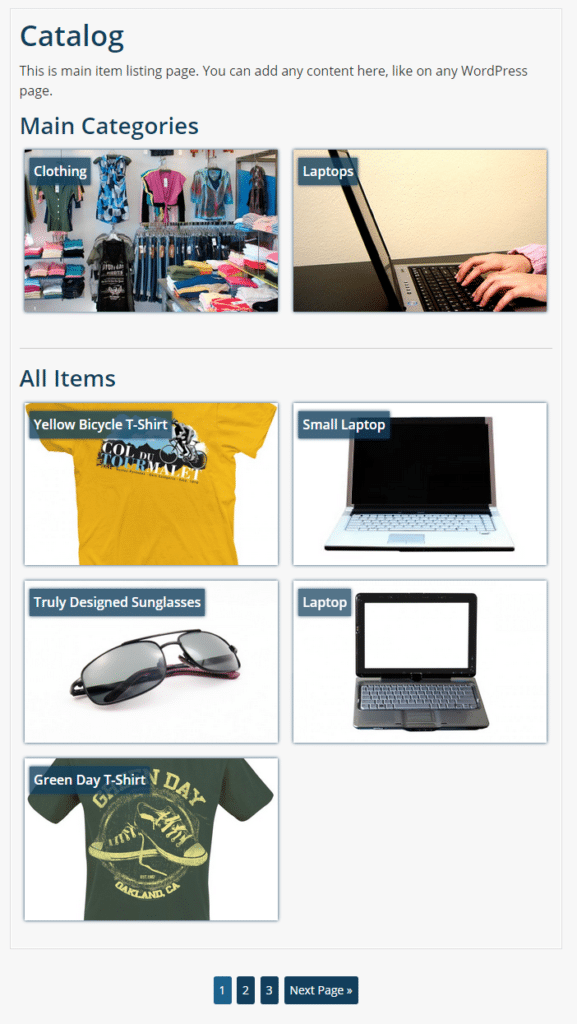 No Limits
You can add as many products and multilevel categories as you need.
Product Catalog Widgets
Product Catalog Simple comes with handy WordPress widgets that you can place in any widget area:
Product Search Widget – shows a search field
Product Categories Widget – shows available product categories with URLs to category pages (only categories with products assigned will show up)
Product Categories Filter Widget – shows category filter buttons, once clicked will ajax-filter products
Free Extensions
Currently available product catalog free extensions:
Price Field – in case you need to assign a price to your products
Product Attributes – lets you assign product attributes/features like color, size etc.
Product Shipping – if you have to assign shipping options for the products
Product Reviews – to let your visitors to leave a product review with rating
Premium Extensions
There are many premium extensions available.
How to install Product Catalog Simple?
Go to your WordPress dashboard > Plugins > Add New and search for "Product Catalog Simple"
Click install
Click Activate
Now a new "Catalog" element will appear in your WordPress admin menu.