Get your theme fully integrated with eCommerce Product Catalog.
Fast and painless integration for even very complex themes.
Now every Advanced Theme Integration allows to get Premium Support service and Product Sidebar extension for free.
Why would I need this service?
After releasing eCommerce Product Catalog some of the users asked for help with the theme integration. Those themes were very unique with advanced custom coding so there is no way we could make our plugin figure out theme markup. After a couple of requests we decided to offer this service.
So in most cases you will be good with your theme (the plugin will figure out your design automatically), another time you will have to use our Theme Integration Guide. It should be very easy and intuitive. If you face any problems, e.g. you can't find the loop as specified in the guide it means that your theme is so unique that it needs Advanced Theme Integration.
Theme integration process
During the integration we don't change any of your theme files. We will give you additional files to put in theme folder or we will make the integration as additional plugin.
This assures you that theme updates will be possible without loosing the eCommerce Product Catalog integration.
The integration will work for every eCommerce Product Catalog future version.
Product Sidebar extension
As a free addition we will install Product Sidebar extension on your website. This allows to enable separate sidebar for all product pages.
Product sidebar features:
Enable product sidebar on product page under the image.
Enable/disable sidebar on product listing pages
Set product sidebar width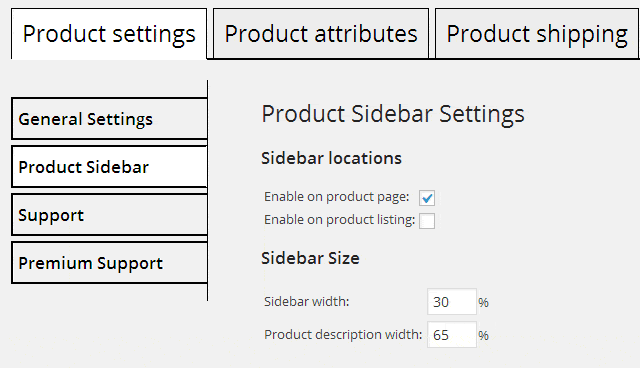 Premium Support
This service comes with Premium Support (worth $49). As a Premium Support member you get:
One year of high quality and speedy support from our team of WordPress experts.
Guaranteed reply in less than 24 hours! Normally in less than 1 hour.
Available 24h of every working day!
Fast, thorough and professional replies for all plugin issues.
Ideal for business websites and websites that generate income as our swift replies ensure that all issues are addressed and corrected as quickly as possible.
Please see our Support Policy.
What are the steps?
After we receive payment confirmation we will contact you by email to get your theme files or access to the FTP
It will take maximum 24 hours to integrate your theme with eCommerce Product Catalog (normally 1 hour is enough)
After the integration is done you will receive your integrated theme