eCommerce Product Catalog is powerful and basic at the same time. It is very lightweight so WordPress doesn't even feel it.
Not using WordPress? See our migration solutions.

Product catalog features
Unlimited number of products – Add as many products to your catalog as you need
SEO Friendly – Give the website nice boost in search engines with SEO optimized product pages
Usefull Product categories – Divide the products into categories if needed
Intuitive Catalog Settings – Fully customize the product catalog
[show_products] Shortcode – Show products with shortcode whenever it's desired on the website
Lightbox on product image – Display product image in nice lightbox window
Product Attributes – Specify attributes for each product separately or for all products in one place
Color & Size Change – Choose color and size of product catalog elements
3 Product Listing Templates – Select from 3 completely different product listing templates
25 currencies available – Choose from 25 different currencies or just insert custom currency
Customizable Price Formats – 4 different price formats to suit any currency
Product Shipping – Set shipping options for each product separately or for all products in one place
Drag-and-Drop functionality – Highly intuitive interface to manage Product Attributes and Shipping Options
Product Category Widget – Show product categories in sidebar
Product Search Widget – Give users useful search function
Completely Customizable Design – use theme CSS, great for designers and developers
Abillity to Disable the eCommerce functionality – very handy to just present products without price
Cross Browser Compatibility – works in all major browsers: IE7, IE8, IE9, Safari, Firefox, Chrome, Opera
Product Archive Page – choose a WordPress page to display products or just use show_products shortcode
Front-end Labels Manager – manage everything users can see
Product Breadcrumbs – use SEO friendly product breadcrumbs
Additional Plugin Features
Disable shipping
Disable attributes
Disable product price
"We use this plugin for the 5th product related project now. Best when it comes to custom features, catalogs without price etc. Really fast support and great extensions. It works with any theme and it's free!"
"It is a great plugin to turn WP into a catalog without using a full e-commerce plugin. If you only want to show a products catalogue organized by categories, this is your plugin."
Supported Languages
Note: All our plugins are localized/translatable by default. This is very important for all users worldwide. So please contribute your language to the plugin to make it even more useful.To do so please contact us.
English (en) – default, always included
Spanish (es) – Thanks to Andrew
Polish (pl) – Thanks to Norbert
Hebrew (he) – Thanks to Ahrale
Bosnian (ba) – Thanks to Faruk
Your translation? – Just send it in (currently it is just about 140 phrases to translate)
Reward your WordPress website with beautiful and easy to use product catalog. eCommerce Product Catalog is powerful and basic at the same time. It is built by impleCode and more features are added every week. Expect high quality code which is great value not only for Merchants but also for Developers and Theme Constructors.
For any problems with plugin styling please follow Theme Integration Guide.
See Installation Guide.
eCommerce Product Catalog features
Unlimited number of products
Our WordPress product catalog plugin is entirely based on WordPress post types. This is big advantage because it means that the plugin will grow with WordPress and it will be compatible with every future version.
Add as many products as needed simply by filling out product add screen fields.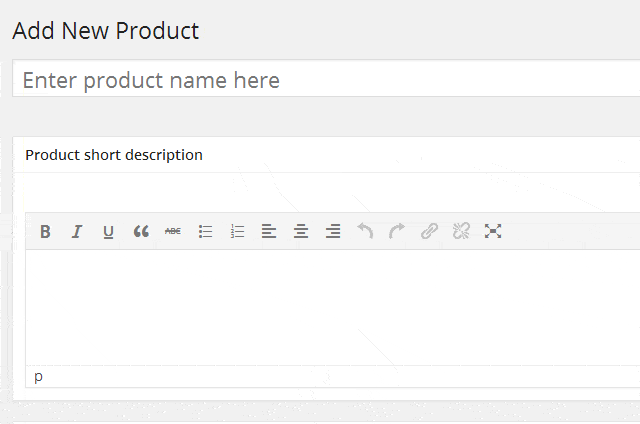 Useful Product Categories
Organize product catalog with great flexibility. Categories allows to create multiple catalogs with many subcategories. Categories are useful for SEO and usability purposes.
Manage categories on a well known similar to posts categories screen. Full compatibility with WordPress. Add new categories on product add/edit screen.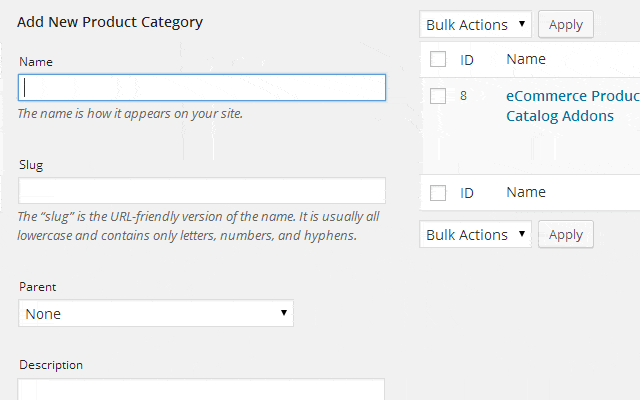 ---
Intuitive Catalog Settings
Catalog settings are divided to general settings, attributes settings, shipping settings, catalog design and front-end labels.
General tab allows to change default product image, product listing URL, product catalog currency, categories parent and number of products shown on product listing.
Also manage breadcrumbs or disable them at all if using any external plugin.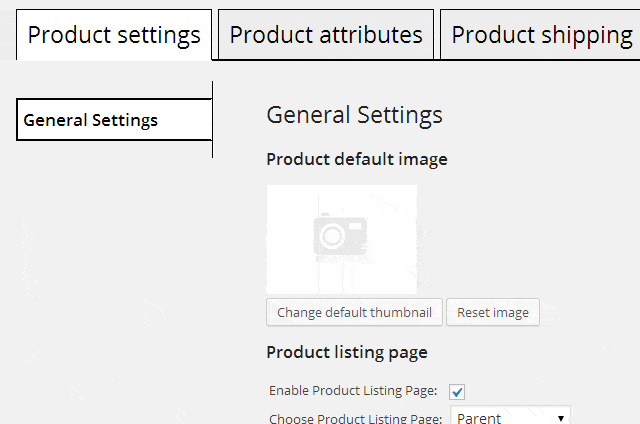 Product Attributes
Product attributes are very useful for users to quick scan the products for what they need. It has high impact on usability and conversion rates. Use it wisely to gain some additional conversion points.
Set maximum number of attributes to use on each product. Disable attributes feature by setting this number to zero. On attributes settings page also set default attributes – it is very useful when using similar attributes for every product.
After the default values are set, just change them for each product separately if needed. Attributes can be also moved around with drag-and-drop functionality.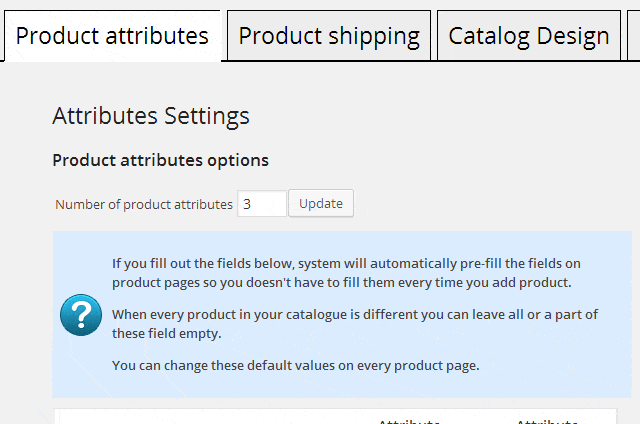 ---
Product Catalog Archive Design
Select archive theme on the product catalog design tab. Default archive style is modern grid. There are two more available: classic list and classic grid.
Enable or disable product attributes with show attributes check-box.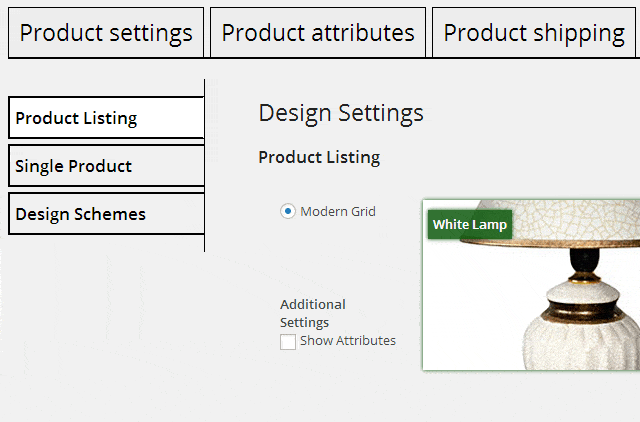 Single Product Gallery
Manage product gallery display in Catalog Design >> Single product. Set the use of gallery light-box and default image. Even disable the gallery at all.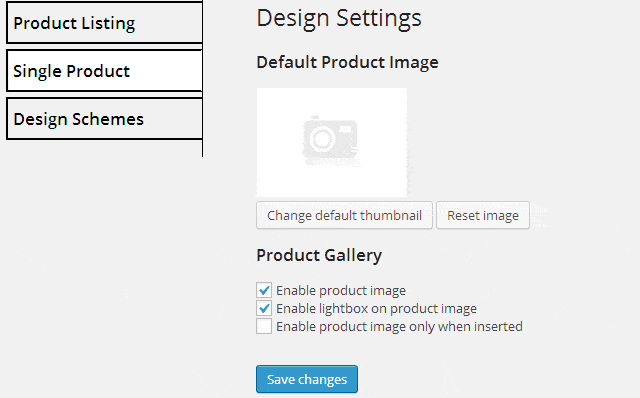 ---
Manage Product Catalog Design
Change size and color of certain elements from design schemes settings screen. Design schemes are located at Catalog Design >> Design Schemes.
Easily change price color and size, archive theme colors, pagination colors etc.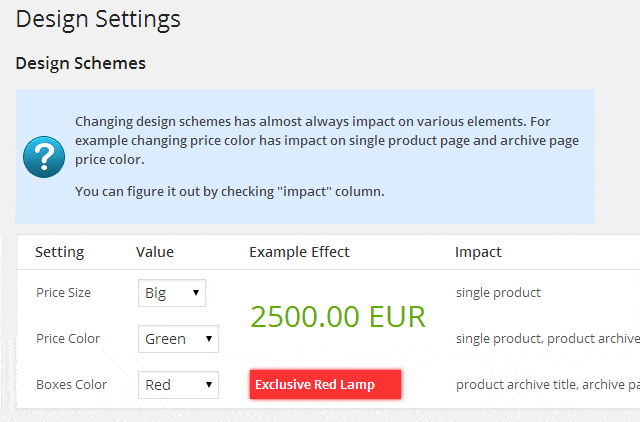 Product Shipping Options
Specify number of shipping methods and default values on the product shipping tab . Change values for every product. disable shipping functionality by setting number of shipping options to zero.
Drag-and-Drop functionality also works on shipping options.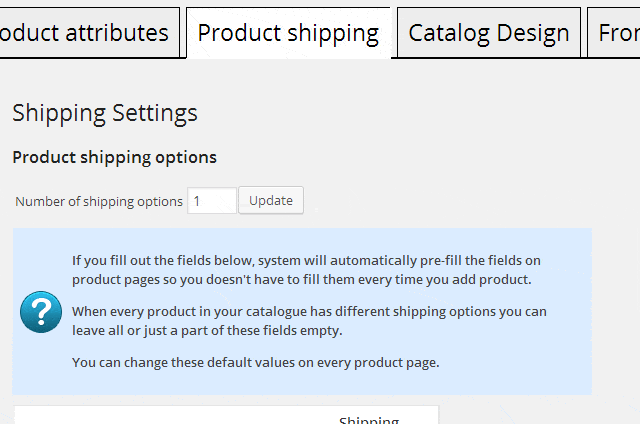 Change the most important content
eCommerce Product Catalog is translation ready with .po and .mo files but for quick change of front-end labels use the Front-end labels tab.
It is useful for meaning change, deletion of some elements or just simple and quick translation. E.g. change products to services, delete price label etc.
This tab is divided into labels on single product page and on archives pages.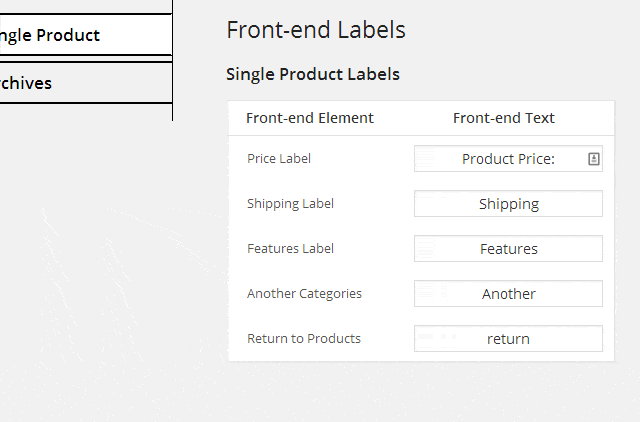 Product Search Widget
Find Product Search Widget on WordPress widgets screen. The widget has a title field. Search widget is useful to place in product catalog sidebar to show only product in search results.
The default WordPress search widget will not show products in search results.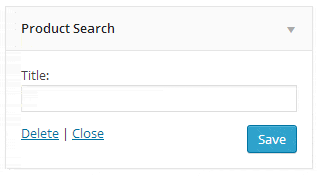 ---
Product Category Widget
Find Product Category Widget on WordPress widgets screen. The widget has some options:
Display as dropdown
Show number of products in category
Display categories in hierarchical mode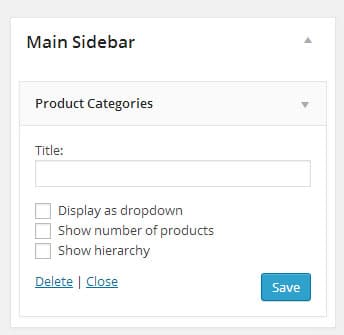 ---
eCommerce Product Catalog has a lot to offer and it is still extensively developed. Every week new features or tweaks are added. So just…
… and test it personally.